Direct to Garment Printing, and the DTG brand direct to garment printers in particular, is an amazing technology that allows almost anyone to print incredibly colorful, high impact images directly onto tee shirts and other textiles. If you've dreamed of creating your own t-shirt line, have terrific ideas that would look great on fabric bags, leather materials, canvas and even non-garment textiles like linens, towels and the like, then ColDesi's DTG Brand is right for you.

If you are an experienced t-shirt business professional, especially a screen printer or user of another brand of direct to garment printer, you are also in the right place! Imagine being able to offer your customers incredibly high quality, full color prints in minutes – and get to say YES to short runs, keeping all that extra business in house. DTG brand direct to garment printers from ColDesi give you the best combination of speed, quality, productivity and cost on the market today.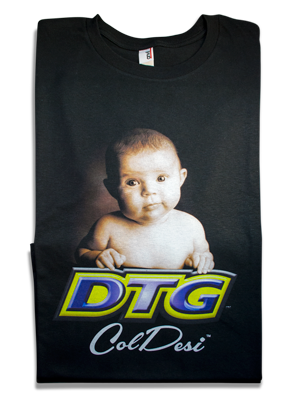 Direct to Garment Printing is ideal for short run (up to 100 or more) garments with designs that contain multiple colors or variable data. Our customers excel in target markets like promotional apparel, charities and not-for-profits, family reunions, birth and wedding announcements, corporate events, small companies requiring short run printing of full color logos, business launches and wearable art. You will see our most successful customers doing some incredible online sales in quirky ("attitude shirts") and custom user-designed tees as well. In fact, when you search for and buy a custom tee online today you are probably getting a direct to garment printed product from one of our customers!

The digital apparel printing business is a great business to enter into in any economy. Whether you choose the DTG Viper, workhorse of the industry, the M2 DTG Printer with its ground up made-for-t-shirt printing heart, or the new M4 commercial production unit, the low capital investment and high profit margins make it easy to start and achieve immediate cash flow, especially with one of the economical available lease programs.

Direct to Garment Printer Line Up
No matter what you call them, t shirt printing machines, DTG Printers, direct-to-garment printers, or just DTG, one of these amazing printers is behind thousands of custom t-shirt businesses. ColDesi offers three models:
DTG Viper: The Viper is the best selling DTG printer for the company, not just because of its lower entry price, but because of its outstanding print quality and the ability to print on over-sized tees, towels, bags and more.
DTG M2: The M2 takes a unique and profitable approach to DTG printing and workflow with its dual platen, lateral printing system. Rather than printing on one garment at a time, the M2 allows you to print on 2 shirts at once. This reduces "interface time" and helps you maximize your labor and your profits.
DTG M4: The M4 is an extended version of the M2 for the busiest in custom t shirt printing businesses. With the M4, you can print 4 full sized adult tees at once!

A quick search online for custom t-shirts will give you an idea of the size of this market, and a DTG Printer from ColDesi is the first step in becoming a part of it.

We will be at the Western Canadian Imprint Show, Friday October 17 & Saturday October 18, 2014 - BMO Centre, Hall "C" - Calgary, AB

For videos and more information on these printers click here...

Check our SPECIALS page here...

Questions or comments?
E-mail us at inquiries@qualitydigitalsolutions.ca or call (403) 262-6915 Calgary or (888) 235-2838 toll free.